LOCKTIX® – the screw lock
Makes all screw connections vibration-proof.
Never worry about loose screws again
Locktix renders all of your screw connections vibration-proof.
The automotive industry has been using Locktix successfully for many years.
Locktix keeps screws locked into place even under the strongest dynamic loads. The unique surface structure claws into the opposing surface.
Locktix boasts sustainable chromium VI free surface protection.
Test the proven, modern and groundbreaking performance of Locktix and become one of our many satisfied customers.
LOCKTIX®-Washers
The following dimensions are based on flat washers similar to EN ISO 7089:2000 (replacement for DIN125)
Size
Hole diameter d1
Exterior diameter D2
Thickness h
~ Weight
(grams/each)
min. = nom. dim.
Tolerance
max. = nom. dim.
Tolerance
Nom. dim.
Tolerance
M8
8,2
+ 0,22
16
-0,43
2,5
+/- 0,2
2,57
M10
10,2
+ 0,27
20
-0,52
2,5
+/- 0,2
4,05
M12
12,2
+ 0,27
24
-0,52
3
+/- 0,3
6,93
M14
14,2
+ 0,27
28
-0,52
3
+/- 0,3
9,59
M16
16,2
+ 0,27
30
-0,52
4
+/- 0,3
14,10
M18
18,2
+ 0,33
34
-0,62
4
+/- 0,3
18,28
M20
20,2
+ 0,33
37
-0,62
4
+/- 0,3
21,40
M24
24,2
+ 0,33
44
-0,62
4
+/- 0,3
31,14
Simple advantages that speak for themselves:
Only one washer to be installed
Minimal washer height
Shorter windings mean reduced weight and cost
Can be used repeatedly; i.e. product is re-usable
Also works in long holes
No risk of confusion or mounting errors
No hydrogen embrittlement
Zinc-nickel plated
Use in conjunction with screw rigidities 8.8; 10.9 and 12.9
Optimum loosening turn lock at full or half preload force
Many of the alternative and even more expensive products currently on the market do not have the capabilities of Locktix!
These products frequently consist of two components positioned into place with an adhesive. Once the adhesive loses its stickiness (after being stored or due to aging or UV light exposure), the components, which are not symmetric, loosen and incorrect installation can no longer be ruled out.
You will not encounter this problem with Locktix, since it consists only of a single washer, which is always correctly positioned. It holds in place dependably – so your screw connection will not only be "firmer" but also more cost effective!
Locktix also secures screws tightly into painted, anodized and zinc coated surfaces as well as oily or greasy surfaces.
Locktix® screw lock applications
Automotive
Machine engineering
Wind energy
Railway operations
Agricultural and forestry implements
Mining
Bridge construction
Wind suction safety, e.g. along railway tracks
Robots
Request a complimentary samplefrom us. Or call if you have any specific questions.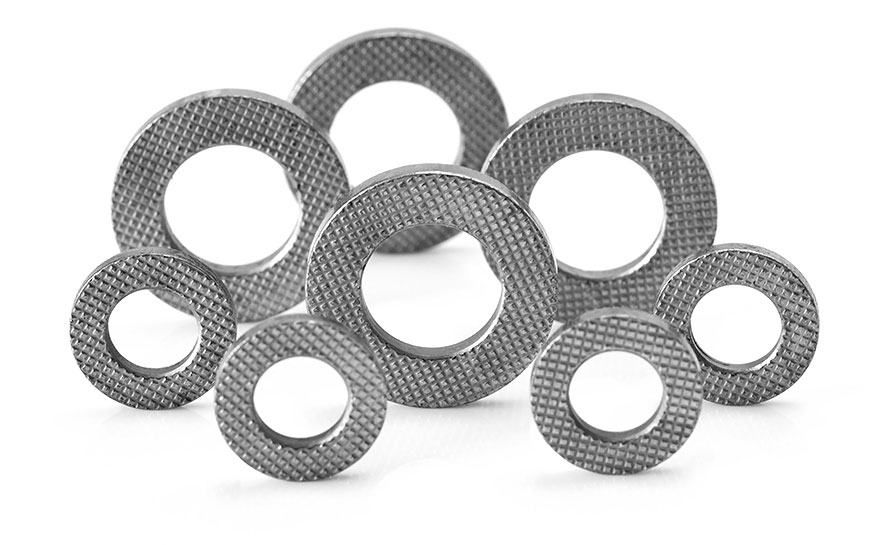 LOCKTIX® is a registered trademark of Rudolf Rafflenbeul Stahlwarenfabrik GmbH & Co. KG Petty patent registration has been obtained.